Empty space, drag to resize
Empty space, drag to resize
Empty space, drag to resize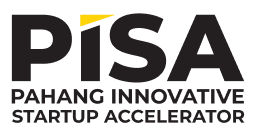 SHAPING AND ENHANCING
Pahang's Innovative Entrepreneurs
Empty space, drag to resize
Empty space, drag to resize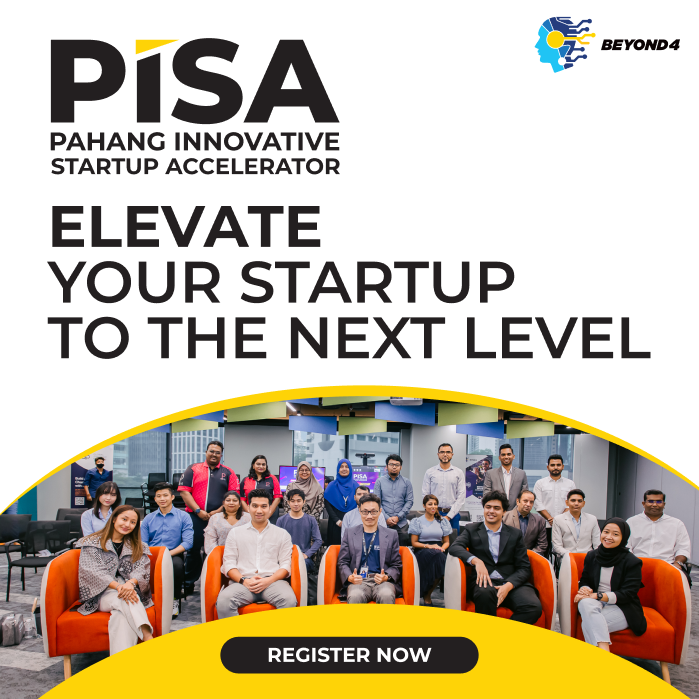 Designed for
Innovative Business Ideas
A 3-month power packed pre-accelerator programme exclusively designed for businesses wanting to carry their innovative ideas to the next stage. The PISA programme is the perfect fit for founders wanting a guided journey that will allow them to prepare their product or service for fundraising to be able to accomplish their next stage of growth.
Application Starts

20 March 2023

Application ends

16 May 2023

Program Starts

30 May 2023

Duration
3 Months
40 Hours
Programme Roadmap - Cohort #3
Activities will be in hybrid format (most activities will be available online), catering to participants nationwide. Some activities are compulsory. Check out the tentative timeline for the program.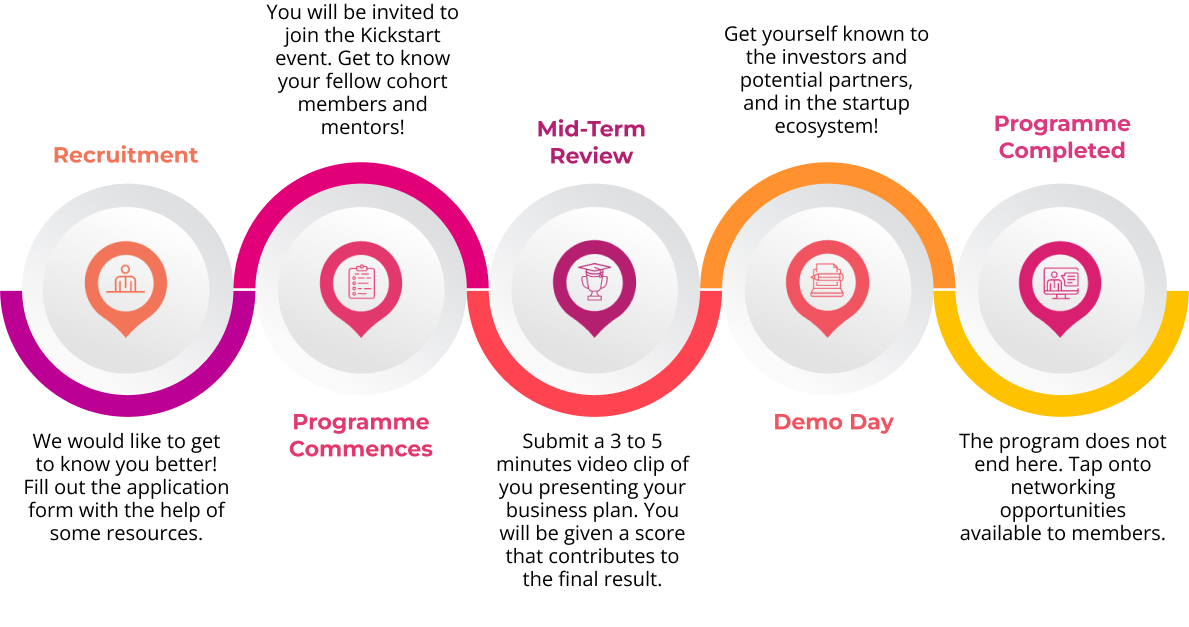 Demo Day Awards
Race to be one of the Top 3 teams to enjoy these post-program opportunities.
BEYOND4
Investment & Acceleration Opportunities
(Up to RM 50,000, offer to join BEYOND4 Startup Accelerator)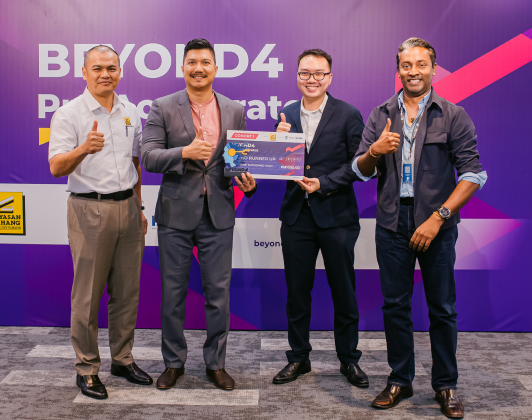 Proof-of-Concept Opportunities
(Local/Overseas)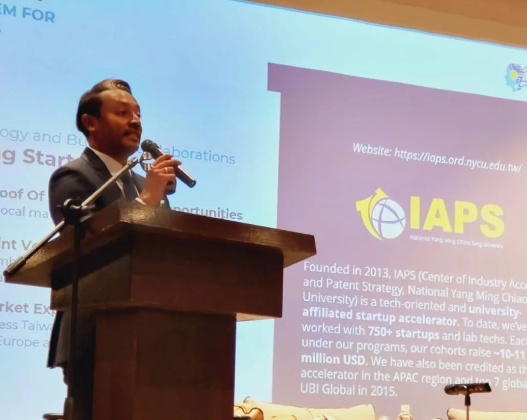 Mentorship
(Local/International)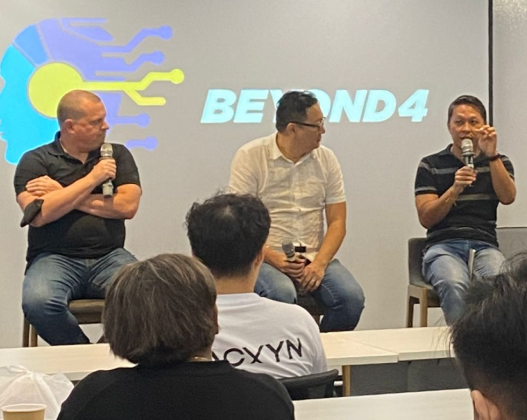 Tools and Resources
(Value up to RM 10,000)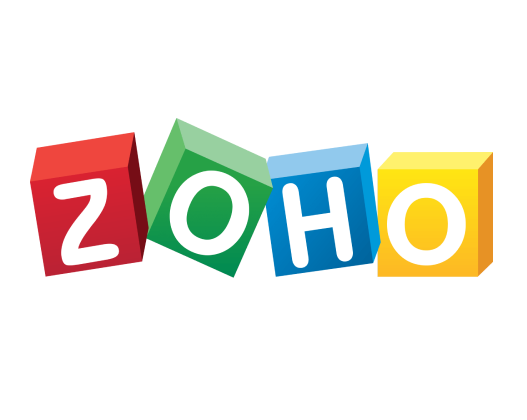 From seed to growth.
We help Startups Get Your First steps Right
From international mentors to fundraising opportunities, the PISA programme helps founders pave the pathway to success. Supported by the BEYOND4 Ecosystem, founders have access to a library of resources across the board.


Success Stories
YesHello
Embarking on their first Fundraising Round
Their journey with us began when they joined the PISA Cohort 1 programme in May of 2022 and successfully secured a spot as the
Top 3 during the Demo Day.

Dr.Sindhuja, ezGiGi,
Cohort 2
"The programme has really really helped us to hone in and focus on our business as well as to crystalise a lot of that grey areas that we were not too sure about before this."
Aliff, YouthRice,
Cohort 2
" I think the programme has helped us in many aspects because of its Ecosystem. I believe is has helped us to really strategize financially good sustainable revenue streams."
Rosila, Dhuha Tensai,
Cohort 2
"It is really hard to get mentors out there as a business owner by myself. Through this programme, I really value the mentorship sessions because there are so many talented mentors in this programme. "
Dr Suthan, ePink Health,
Cohort 2
"It has helped us in a lot of ways especially mentoring because we have been looking for a mentor for a very long time, we have not previously gotten proper guidance. With this programme not only one mentor has guided us, multiple mentors have taken us this far."
Syed Ahmad Syuhaidi, QuickEasy,
Cohort 2
"The programme has helped me to educate myself to become a better entrepreneur in tech development."
Moses Kanesan, MyDeliva,
Cohort 2
"When we joined the programme we were at ideation stage. This programme is where they guide us through from ideation how we can go to MVP. That is a big step for us and a great help from BEYOND4."
Peluang Keemasan
untuk Usahawan Inovatif

Rebut peluang anda untuk menjadi Perintis Startup Pahang dalam memacu inovasi dan membangunkan Lanskap Startup Pahang. Program PISA adalah bertujuan untuk menghubungkan usahawan kepada sumber yang tepat dalam membina perniagaan berjaya yang mudah ditingkatkan. Perjalanan selama 3 bulan ini akan memastikan bahawa anda dapat membawa perniagaan anda dengan yakin ke peringkat seterusnya.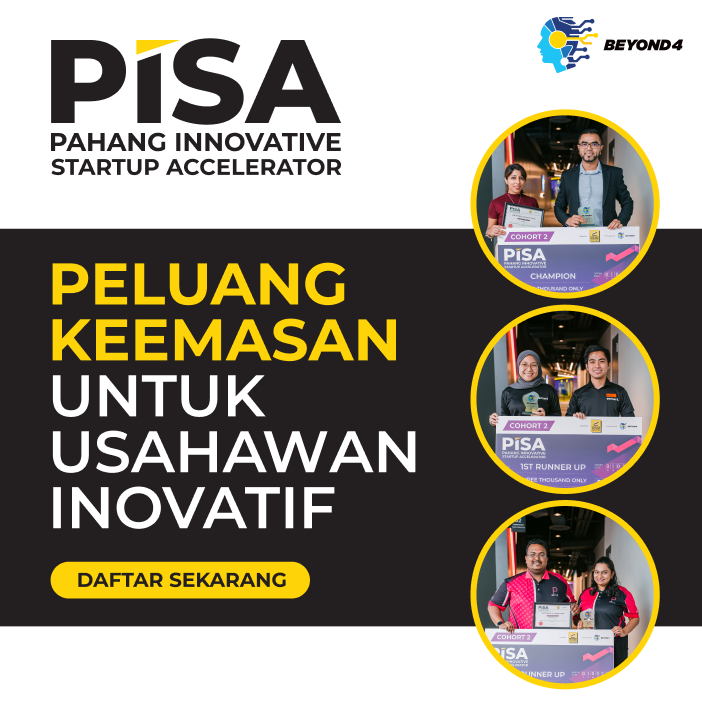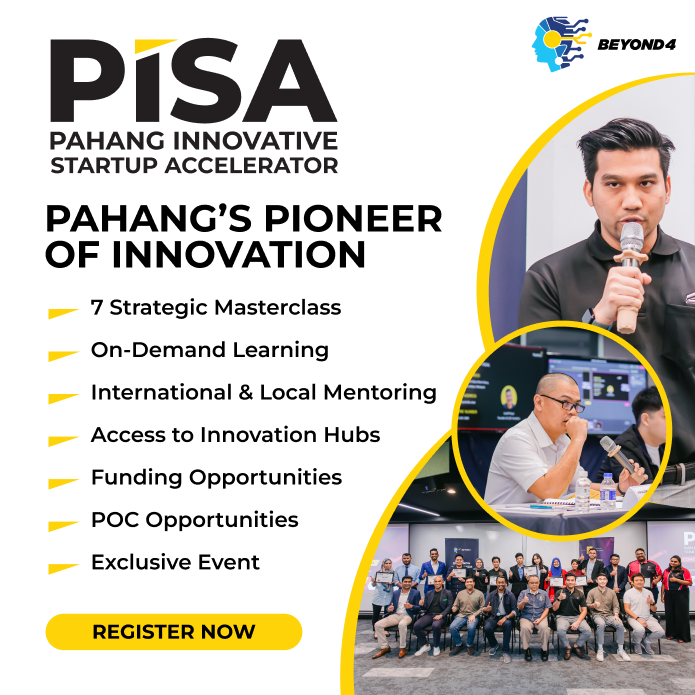 BEYOND4 X Yayasan Pahang
Yayasan Pahang is a state driven agency with the core goal to propel the progress of education, sports, culture and expand opportunities within this scope exclusively for Pahang born citizens. They have mandated this initiative to The BEYOND4 Ecosystem alongside its global partners.

The BEYOND4 Ecosystem is an Intelligent Multi-Tier Accelerator Ecosystem comprising of 5 core Accelerators driving the Talent & Startup initiatives in Malaysia & the Region with innovation at our core.
Startup Alumni Community
Discover the Accomplishments of Our Esteemed Alumni Across Cohorts

COHORT 1

COHORT 2

Events Highlights
Relive the Best Moments from Our Alumni Event
Eligibility Criteria
Please contact
[email protected]
if you are unsure whether you are eligible for the program.
A Malaysia Registered Entity

Applicable to Pahang-born founders or founders with either parent born in Pahang (with the IC no. 06, 32, and 33)
You must have a registered entity in Malaysia or show plans to register within 3 months from enrolment.
Established company in Pahang



Applicable if the company does not have Pahang-born founders or founders with either parent born in Pahang.



You must have a registered entity in Pahang.
Minimum Viable Product
You are advised to show a MVP or some viable activities at the point of application.
Commit At Least 40 Hours
You or your appointed representative must be able to commit at least 40 hours in the program. Most activities are available online too.
Within the Target Verticals
Preferably in the following verticals: Manufacturing 4.0, FinTech, Digital Arts, GBS 4.0, EdTech, HealthTech, AgTech, FoodTech, and IoT.

One Full-time Member
You must have at least one core team member working on the business full-time.